Growing up, my favorite ride at Epcot was Journey Into Imagination – I loved the Dreamfinder and his little purple dragon! Figment has basically become the mascot for Epcot, showing up in signage and merchandise for all the annual festivals so he is a fitting follow-up to my Spaceship Earth design. I had a lot of fun designing this Figment paper art with free SVG – I hope you enjoy making him too!
Two tiny wings, eyes big and yellow

Horns of a steer, but a moveable fellow

From head to tail, he's royal purple pigment

And there – Voila! – you've got a Figment
---
Are you lucky enough (i.e. old enough) to remember the original version of Journey Into Imagination? After the revamp in 1999 completely removed Dreamfinder and reduced Figment's roll to a brief cameo. Fans were not happy, and neither was the merchandising department as Figment goods were one of the hottest selling items in the park. In 2002 the ride was changed again to add Figment to every scene including the grand finale. Though it's a much better version than the 1999, it still doesn't hold a candle to the original.
Figment Outside Epcot
Did you know that Figment had his own series of educational short films in the late 1980's? He even meet up with some other Disney characters like Peter Pan and Alice in Wonderland. There is a great article about these films you can read here.
Figment and Dreamfinder also have a series of comic books written by Jim Zub and Illustrated by Filipe Andrade. The steampunk inspired books reveal the origin of Dreamfinder and how he created Figment!
Our little purple pal even shows up in The Collector's Archive in Guardians of the Galaxy Mission: Breakout at Disney California Adventure!
Figment Paper Art Project with FREE SVG File to Make Your Own!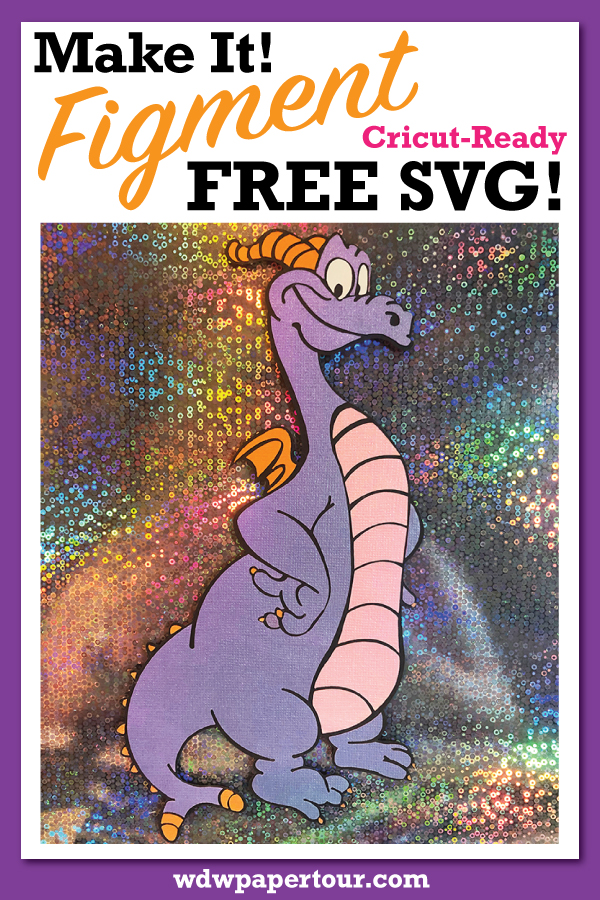 I encourage you to use your IMAAAAAAGINAAAAATION on this one! Try some fun colors or backgrounds I used something I had on-hand that reminded me of the rainbow tunnel from the original Image Works!
I think he would be cute on a backpack or water bottle. What are you going to do with him? Show me over on the Facebook Group!
How to get the Figment Paper Art Free SVG Files
The cut files required to create this project are free and available in my Media Library – all you need is the password! If you don't yet have a password you can get it immediately by joining my mailing list now.
When you sign up, the "Thank You" message will tell you the password. After that you will also receive an email with the link and password. All you have to do is go to the library, click the link that says >>Click Here to Enter Library<< and enter the password when prompted.
In the library you will see a list of available projects organized by location. Click on the name of the project you would like to download and you will be taken to Dropbox where you can choose to download the files directly or save to your own Dropbox.
Figment Paper Art Free SVG Package Includes
PDF that you can use for print & cut, sublimation, etc.
Layered SVG File
PDF printable coloring sheet
Terms & FAQ
Recommended Supplies
By Downloading My Designs You Agree To These Terms:
You can not sell or distribute this design or any part of it. So please just don't do this, because I put a lot of work into these designs and then give them away just for joining my mailing list. That's only one email a week updating you on more projects you might like to do! If you know someone who you think will like this design please send them to the blog so they can sign up too.
If you like my designs please consider a small one time donation via Kofi or a recurring donation to my Patreon – now featuring 1 PATRON EXCLUSIVE design per month! This helps me keep the site running, pay for my materials, and continue to provide new designs for you!
For commercial use, please email michelle@wdwpapertour.com for licensing information.
I reserve the right to change these terms at any time without notice.
Note: This post contains affiliate links. If you purchase something from on of my links I will get a small commission but it costs you nothing extra.