Make Your Own Mysterious Space Orphan
Yes yes, I know. Maybe you've had enough, maybe not. He's a star, he's a meme, he's everywhere, and he's super cute. So here is my Baby Yoda FREE svg design.
I know what you're thinking, that I'm jumping on the band wagon. However, you would be wrong. Not only was I already on the wagon, but I've been on this particular wagon pretty much my entire life. In fact, I own the wagon, people should be buying tickets from me to ride.
Listen, you don't understand, my nickname in high school freshman biology was Yoda because I dressed as him for Halloween and wore Star Wars shirts all the time. We have a room in our house dedicated to the saga. When new people come over they complement my husband on his collection. He then has to correct them, "it's all hers" and point to me.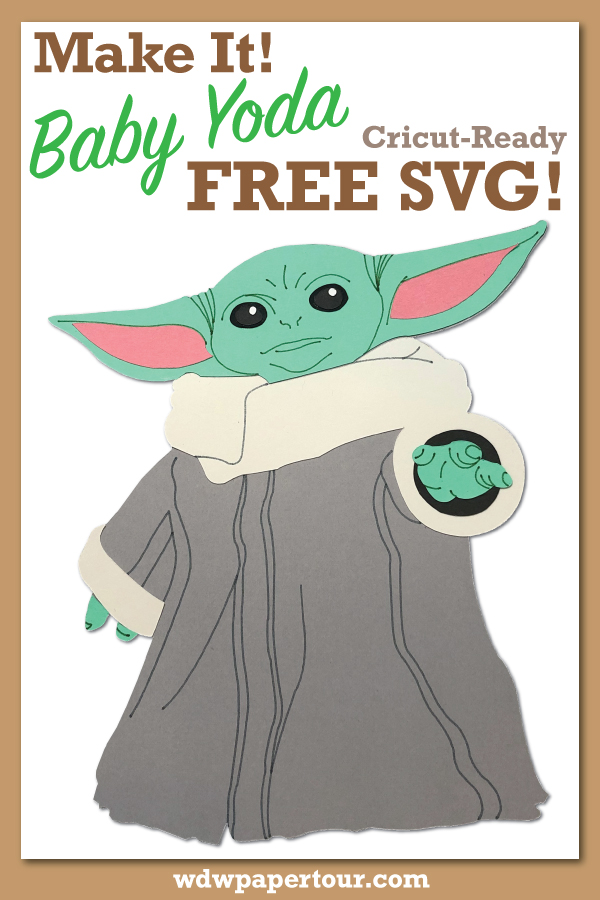 Materials for Baby Yoda Free SVG
How to get your FREE SVG
Head over to the library to download your Baby Yoda Free SVG, all you need to do is enter the password. Don't have the password? Get it instantly by joining our mailing list below. The password will also be emailed to you!
Instructions
Baby Yoda is super easy to put together, especially compared to some of my designs! I'm sure this would also make a good vinyl design.
These are the parts you will have after you cut:
Tan Body
Green Head, Hand, and Fingers
Cream Ruff and Cuff
Pink Inner Ears
Black Eyes and Inside of Cuff
Dark Grey Irises
White Eye Highlights
Layering for Baby Yoda Free SVG
Note: This post contains affiliate links. If you purchase something from on of my links I will get a small commission but it costs you nothing extra.