Minnie Mouse lost her voice last week. If you are up on the current Disney news I'm sure you heard that Russi Taylor, the official voice of Minnie Mouse since the eighties, passed away on July 26. Because of this I decided to honor her with a Minnie Mouse design. As an eighties kid I had to make a Totally Minnie Paper Art with free SVG so you can make one to!
About Russi Taylor, the Voice of Minnie
As most Disney fans know her as the voice of Minnie Mouse but might not be aware of the other characters, both Disney and not, that she played. Notably she was the voice of Martin Prince, Sherri and Terri, and Üter on the Simpsons! Taylor did other Disney voices as well including Huey, Dewey, Louie, and Webbie on the original DuckTales. You can read about her extensive voice-over work on her imdb page.
Russi Taylor was bon May 4, 1944 in Cambridge, Mass and passed away on July 26th at the age of 75. She died of colon cancer at her home in Glendale, CA.
Mickey and Minnie, Totally Married
Walt Disney was constantly asked if Mickey and Minnie were married. Well, in 1991 they were, sort of. One of Russi Taylor's first gigs as the voice of Minnie Mouse was 1988's Totally Minnie tv special. It was there that she meet the voice of Mickey Mouse, Wayne Allwine. According to Bill Farmer, who voiced Goofy, "They were Mickey and Minnie."
Ultimately, the two actors would fall in love. The couple were married from 1991 until Allwine's death in 2009. I can tell you from personal experience that they were both very kind people who loved Disney fans.
The Eighties go Totally Minnie
In 1988 two amazing things happened. Minnie Mouse sang and danced with Elton John and a little girl from northern Illinois went to Disney World for the first time. Totally Minnie was a television special starring Suzanne Somers, Robert Carradine, and Minnie Mouse. Yeah, I know. The eighties were weird.
As a 7 year old girl I was already obsessed with Disney princesses and Minnie Mouse. So when Totally Minnie premiered on February 25 I was right in front of the tv and my mom had the presence of mind to put in a blank tape. Because of my obsession I still have my vhs copy. I'm not sure how many times I watched that tape, but I know it became a tradition for me to watch it the night before all our subsequent Disney trips.
Totally Minnie Paper Art Project with Free SVG Files to make your own!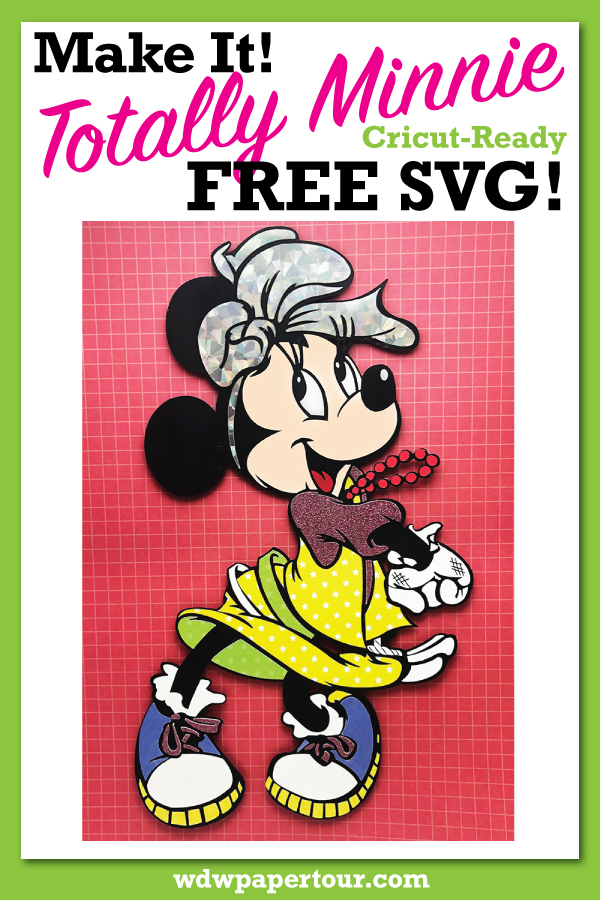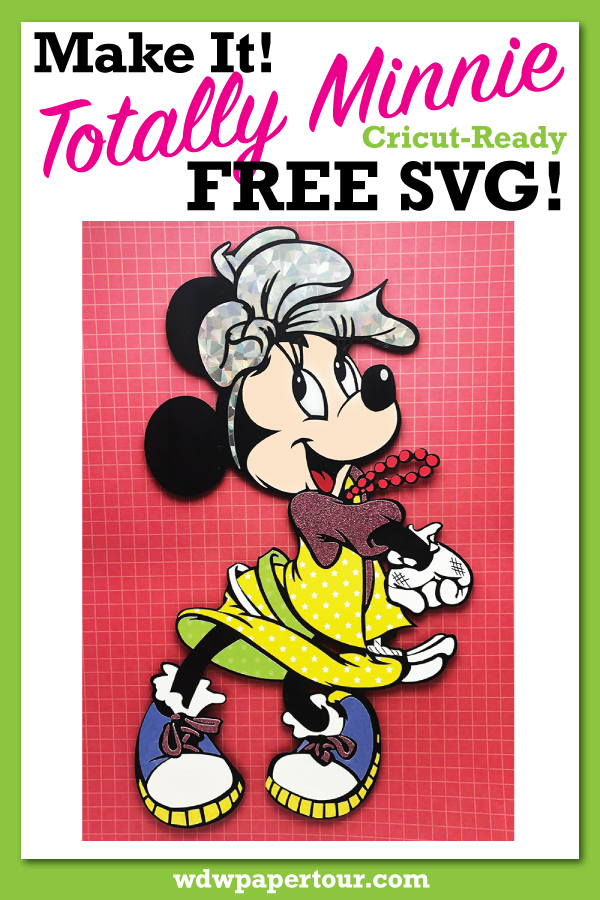 My Totally Minnie Paper Art design is so fun because, it's the eighties, so all bets are off! Play with colors, patterns, and textures. Look around a see what you already have on hand and go crazy. Find a fun background, bonus points if it includes lasers.
Once I figure out iron on vinyl I want to make a shirt out of this. Maybe tie-die. Add some chunky plastic bracelets, tease my hair, and jam out to the Eurythmics.
How to get the Totally Minnie Paper Art free svg files
The cut files required to create this project are free and available in my Media Library – all you need is the password! If you don't yet have a password you can get it immediately by joining my mailing list now.
When you sign up, the "Thank You" message will tell you the password. After that you will also receive an email with the link and password. All you have to do is go to the library, click the link that says >>Click Here to Enter Library<< and enter the password when prompted.
In the library you will see a list of available projects organized by location. Click on the name of the project you would like to download and you will be taken to Dropbox where you can choose to download the files directly or save to your own Dropbox.
The Totally Minnie Paper Art Free SVG Package Includes
PDF that you can use for print & cut, sublimation, etc.
All layers separated
Layering "cheat sheet"
PDF printable coloring sheet
Terms & FAQ
Recommended Supplies
By Downloading My Designs You Agree To These Terms:
You can not sell or distribute this design or any part of it. So please just don't do this, because I put a lot of work into these designs and then give them away just for joining my mailing list. That's only one email a week updating you on more projects you might like to do! If you know someone who you think will like this design please send them to the blog so they can sign up too.
If you like my designs please consider a small one time donation via Kofi or a recurring donation to my Patreon. This helps me keep the site running, pay for my materials, and continue to provide new designs for you!
For commercial use, please email michelle@wdwpapertour.com for licensing information.
I reserve the right to change these terms at any time without notice.
Note: This post contains affiliate links. If you purchase something from on of my links I will get a small commission but it costs you nothing extra.