Later in the week we will be heading to Animal Kingdom and the Tree of Life. With this in mind I decided to stop and visit one of my favorite members of the animal kingdom, Timon! I hope you have fun making something cool with my Hula Timon Vinyl Art with Free SVG.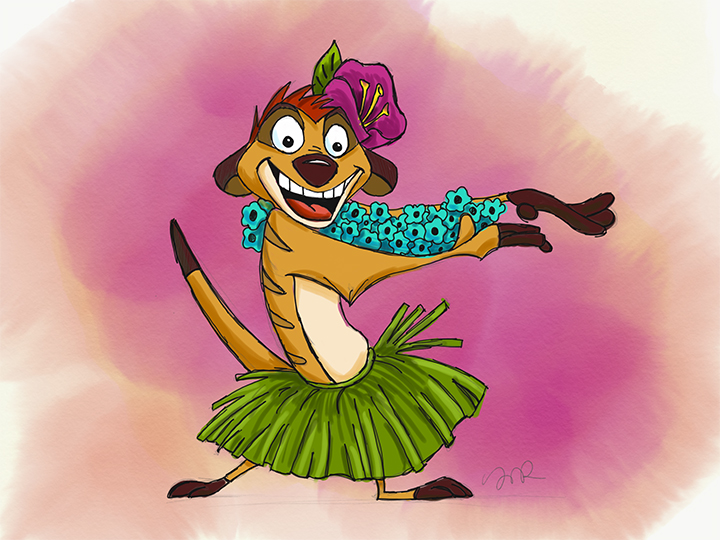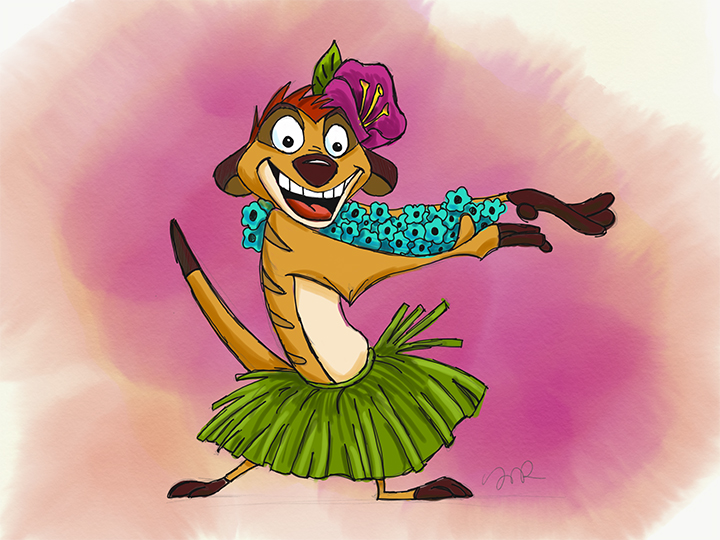 Character: Timon
Attraction(s): Festival of the Lion King, Animal Kingdom
Meet & Greet(s): Discovery Island, Animal Kingdom
One of my all time favorite scenes in Lion King is when Timon does the Hula to distract and lure the hyenas. He also utters one of the best quotes in the history of Disney film "What do you want me to do? Dress in drag and do the Hula?"
Hula in Walt Disney World
The best place to watch authentic Polynesian dancing is Disney's Spirit of Aloha Dinner Show at the Polynesian Resort. The show comes with an all-you-care-to-eat tropical dinner served family-style. Prices range from $66 – $78 for adults and $39 – $46 for kids depending on where you prefer to sit.
While you are at the Polynesian, make sure to visit Trader Sam's Grog Grotto. The grotto is a tropically themed tiki bar with unique drinks and food options. Trader Sam's Tiki Terrance is located outside the bar and features live music.
Tropical Fun Inside the Parks
Head to Adventureland in Magic Kingdom to visit the classic attraction Walt Disney's Enchanted Tiki Room. You'll be entertained by crooning birds, flowers and tikis. You will also hear a familiar song "Hawaiian War Chant" which shares a tune with Timon's tropical chant.
Lu'au!
If you're hungry for a hunk of fat and juice meat
Eat my buddy Pumbaa here because he is a treat
Come on down and dine
On this tasty swine
All you have to do is get in line


Are you aching
(Yup, yup, yup)
For some bacon?
(Yup, yup, yup)
Here's a big pig
(Yup, yup)
You could be a big pig too!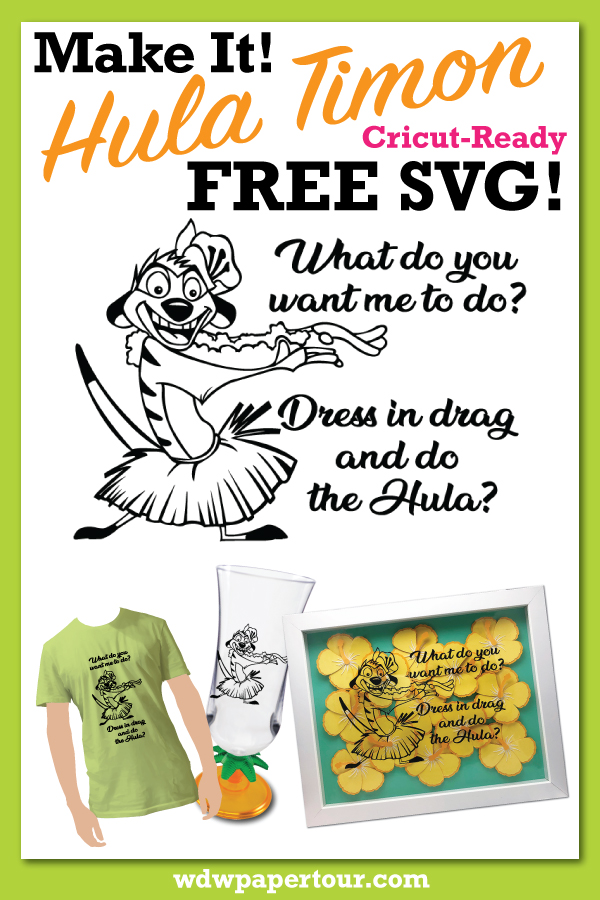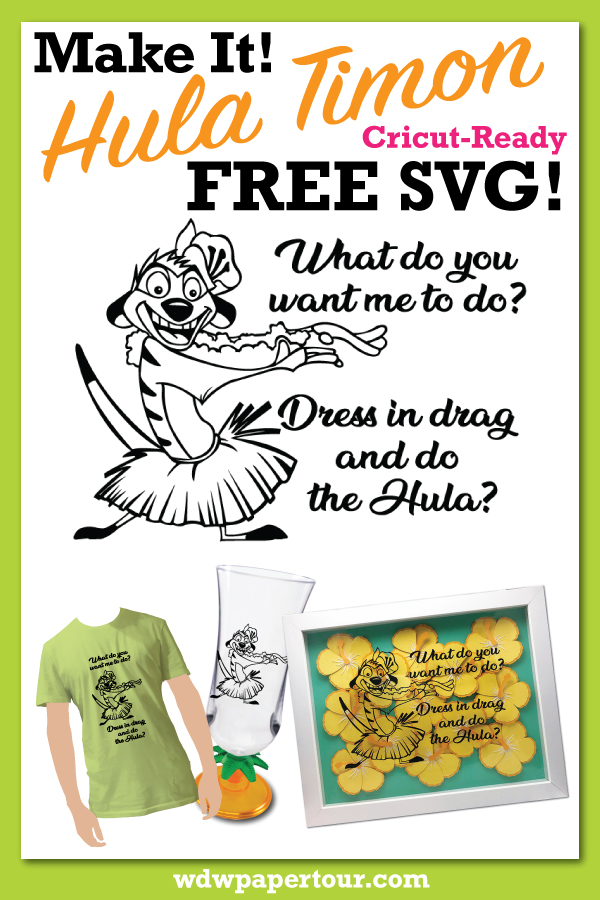 Hula Timon Vinyl Art with Free SVG File – BONUS Hibiscus Paper Flower Design
I made this design as a one color thinking it would be cute for t-shirts, mugs and the like, but I got the idea to do one of those fancy paper flower shadow boxes all the cool kids are doing. Due to my brilliant idea, I now had to come up with a hibiscus design too!
Here are a couple fun ideas of what you can do with the design. Don't they look cute on these palm tree hurricanes? These would be so good for a home tiki bar or luau party! Show me what you made over in the Facebook Group!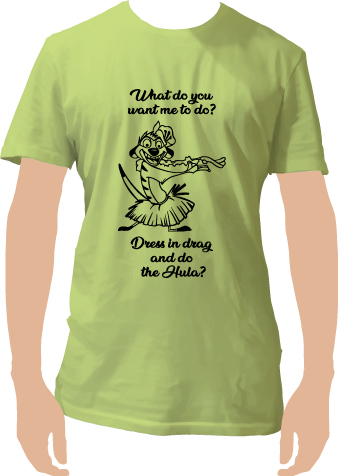 HOW TO GET THE Hula Timon Vinyl Art & Hibiscus FREE SVG FILES
The cut files required to create this project are free and available in my Media Library – all you need is the password! If you don't yet have a password you can get it immediately by joining my Facebook Group Here.
In the library you will see a list of available projects organized by location. Click on the name of the project you would like to download and you will be taken to Dropbox where you can choose to download the files directly or save to your own Dropbox.
Timon FREE SVG PACKAGE INCLUDES
Layered SVG Files
PDF printable coloring sheet
Terms & FAQ
Recommended Supplies
BY DOWNLOADING MY DESIGNS YOU AGREE TO THESE TERMS:
You can not sell or distribute this design or any part of it. So please just don't do this, because I put a lot of work into these designs and then give them away just for joining my mailing list. That's only one email a week updating you on more projects you might like to do! If you know someone who you think will like this design please send them to the blog so they can sign up too.
If you like my designs please consider a small one time donation via Kofi or a recurring donation to my Patreon – now featuring 1 PATRON EXCLUSIVE design per month! This helps me keep the site running, pay for my materials, and continue to provide new designs for you!
For commercial use, please email michelle@wdwpapertour.com for licensing information.
I reserve the right to change these terms at any time without notice.
Note: This post contains affiliate links. If you purchase something from on of my links I will get a small commission but it costs you nothing extra.