I've been to Disney World enough to have amassed a small collection of Magic Band colors. My husband is not a fan of the bands and wears his puck on a clip, so I have his too. This year, with the help of my Cricut, I've decided to dress them up! I thought maybe you would like to make some too, so here is my DIY Nightmare Before Christmas Magic Band.
One of my favorite parts of planning for our Disney vacations is planning what I'm going to wear. It's fun to find Disney outfits, and yes, often times themed to what we are doing that day. You need to find a delicate balance between cute and comfortable for being in the parks all day. In years past, I would just use the color band that most matched my outfit, but I decided to make things a little more fun this time around.
I'm sure it's no secret at this point that I am a huge fan of Nightmare Before Christmas. In fact, this week I am devoting all my drawings and projects to my favorite Disney Christmas film! Being a fan, this also means that I have plenty of Nightmare "stuff" from decor to clothes to bags to Minnie and Mickey ears. Last year my son and I were Jack and Sally for Halloween.

When my niece was little, every time she saw something Nightmare related she would shout "Auntie Michelle!" My love of the movie spilled over to her and she made me this awesome painting for my birthday this year!
Nightmare in the Parks
Unfortunately, outside of Disneyland at Halloween and Christmas, there is little Nightmare Before Christmas in the parks. There are no permanent rides or shows or even character greetings. You will, however, find Nightmare merchandise in many stores all year long. The film is still a huge money maker for Disney (thanks to people like me) which is why it's surprising that it still doesn't have a ride of it's own.
Since Disney is neglecting to properly represent Nightmare in the parks, I always dedicate a day donning my Sally Minnie ears and dressing the part. Luckily I only have to look in my existing wardrobe to pull out some comfy leggings, Zero earrings, and a Jack Skellington hoodie.
Nightmare Before Christmas Magic Band DIY – Make it with me!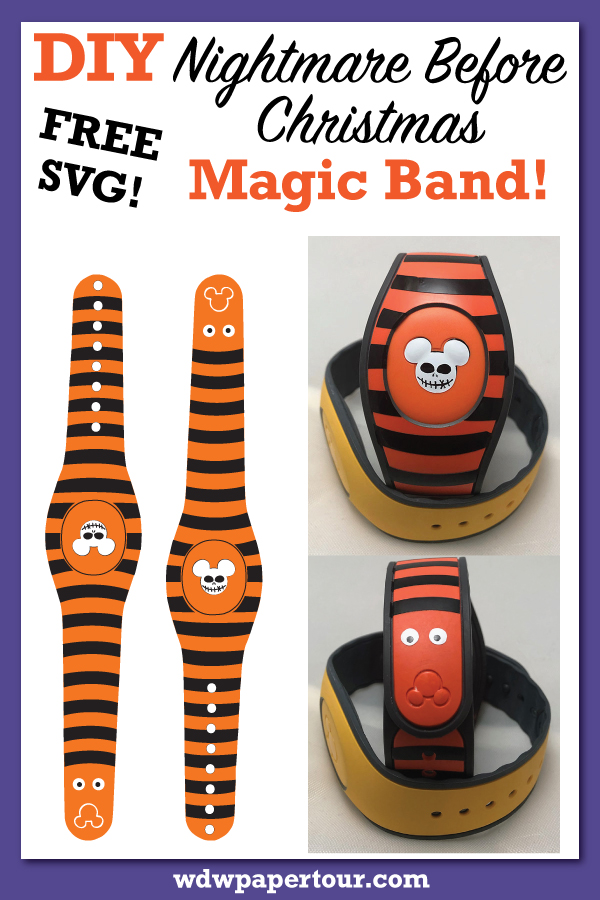 I actually tried to get an official Disney Nightmare Before Christmas magic band with the new premium Magic Band offer through My Disney Experience. Of course, as many have found, when I selected the Nightmare band it told me that it was sold out. But that's ok because it gave me the chance to make on instead!
All you need for this project is an orange Magic Band and black and white permanent adhesive vinyl. You could also very easily use the svg as a template and paint your Magic Band instead. If you already have the password, you can download the files now in the library. If you still need the password please use the form below!
Note: This post contains affiliate links. If you purchase something from on of my links I will get a small commission but it costs you nothing extra.