I was on the My Disney Experience page today looking to pick out our Magic Bands for our trip in January. If you're not in-the-know now, in addition to the "free" solid color magic bands, you can upgrade to a character band for $10.
The problem is that the character band choices are few and far between. Not to mention that even if it says a design you like is available, it may not be anymore the MINUTE you add it to your cart.
I've been hearing about these issues for a while and was able to experience them first hand today. Lucky me.
To be honest, most of the designs they offer are not to my liking. Which is probably the point, right? They are the ones that didn't sell for $24.99 so they are trying to get rid of them by offering them as an upgrade.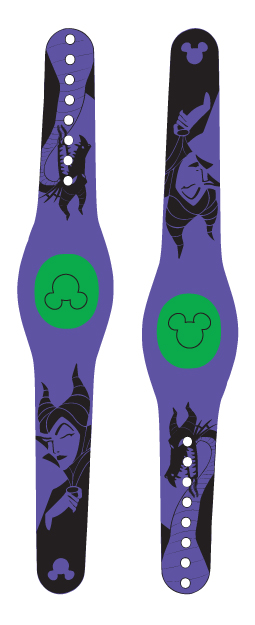 DIY Magic Band
How long do you think it was before it clicked to me that I could take some of my old solid colored Magic Bands (yes they still work) and make my own designs? A bit too long actually, I'm not always that smart.
So now in addition to the Disney Bounds I'm putting together (more on that at a later date) I am going to start making some cute Magic Band wraps to match. Fun right?
Being the generous person that I am I am going to share those designs with you so you can make some too! Aren't I the best?
Maleficent
This evil fairy has been my favorite villain as long as I can remember. I mean, girl can turn into a dragon!
Who can't relate to her story? All she wants is to be included and go to a party, much like a certain Ella of Cinders. (In one version of the story it's because she would have been the 13th guest and they didn't have enough plates. So rude.)
When she doesn't get an invite she decides to crash the festivities instead of mopping in her own castle. Maybe if she had stayed home and cried she would have gotten a free dress and shoes and married a prince, but I digress.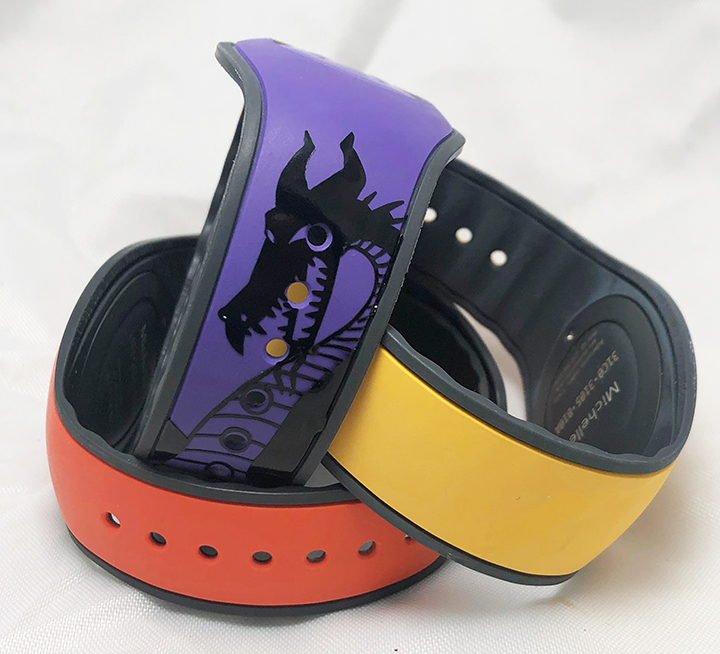 So she's angry and curses a baby, big deal! If your fairy friends went to a party without you and gave gifts to the people who left you off the guest list you would be a little mad too.
Not to mention that she surrounded by truly stupid creatures. The goblins look for a baby for 15 years and the other fairies don't know what a tsp is.
Evil Lives
It's kind of crazy that Disney basically has three (at one time four) active versions of Maleficent in various projects.
You've got the original black and purple clad baddie from Sleeping Beauty. In the classic feature length animated film Maleficent was voiced by Eleanor Audley. Audley was also the voice of Lady Tremaine in Cinderella.
Angelina Jolie's Maleficent gave added depth to the character with a backstory about love and betrayal. The sequel, Mistress of Evil, is coming out later this year. Who else is excited?
Did you watch the latest Descendants movie? The only thing missing was more Kristin Chenoweth! She killed it as Maleficent in the first movie. Dove Cameron is pretty great as her wicked good daughter Mal, as well.
Remember I said at one time there were four? You can not forget Kristen Bauer van Straten's turn as the evil fairy on Once Upon a Time. That show was the best and I still miss it.
So. Many. Maleficents. I love them all, but the original will always be my favorite. Which brings us to this week's project!
Make your own Maleficent Magic Band
Obviously to complete this project you are going to need a magic band. Purple is best but I think green would look cool too!
If you have a trip coming up you can order your magic band any time after you book your package with Disney, so sign into My Disney Experience and choose the color(s) you want.
HOW TO GET THE Maleficent DIY Magic Band SVG Files
The cut files required to create this project are free and available in my Media Library – all you need is the password! If you don't yet have a password you can get it immediately by joining my Facebook Group Here.
In the library you will see a list of available projects organized by location. Click on the name of the project you would like to download and you will be taken to Dropbox where you can choose to download the files directly or save to your own Dropbox.
Maleficent DIY Magic Band FREE SVG PACKAGE INCLUDES
Maleficent & Dragon SVG File
Terms & FAQ
Recommended Supplies
BY DOWNLOADING MY DESIGNS YOU AGREE TO THESE TERMS:
You can not sell or distribute this design or any part of it. So please just don't do this, because I put a lot of work into these designs and then give them away just for joining my mailing list. That's only one email a week updating you on more projects you might like to do! If you know someone who you think will like this design please send them to the blog so they can sign up too.
If you like my designs please consider a small one time donation via Kofi or a recurring donation to my Patreon – now featuring 1 PATRON EXCLUSIVE design per month! This helps me keep the site running, pay for my materials, and continue to provide new designs for you!
For commercial use, please email michelle@wdwpapertour.com for licensing information.
I reserve the right to change these terms at any time without notice.
Note: This post contains affiliate links. If you purchase something from on of my links I will get a small commission but it costs you nothing extra.