How about a brief interlude? Our next destination is Spaceship Earth, but it's not quite ready yet! So this week I decided to do a less ambitious project. Download the free SVG files and you can even add my Jaq and Gus Gus Paper Art Free SVG to the Cinderella Castle design from last week!
Wow it's been a crazy week!
I was so excited at the response to my Cinderella Castle design that I started on Spaceship Earth right away. Though my original goal was to do a big design once a week, it's been taking me more than a week to create the design and then make it cricut-able. That said I still want to have a new project for you each week so I decided to create a less complex Disney related design on weeks that I don't have the large Disney World attraction projects done.
When I was a little princess-obsessed girl my favorite was Cinderella and I loved her little mouse friends. Which is why I decided to make a companion piece to the castle from last week.
Princess Day
When I found out that I was having a boy I was excited but lamented not being able to play princesses with a daughter. Little did I know that my son would become a huge Disney Princess fan all on his own. It started with him wandering the house at 18 months saying "Elenaaaaa! Elenaaaa!" (100% true, I have video.) At first I thought it was a fluke but one day he started singing "Let It Go" and he's been princess obsessed ever since. In fact, the only way I get him out of bed in the morning is by playing the Frozen soundtrack.
It's gotten to the point that on every visit to Disney World we have a designated "Princess Day" when we attempt to meet as many princesses as possible. This year we decided to eat dinner at Cinderella's Royal Table and were able to max out at 9 princesses in one day!
In all we saw Cinderella, Tiana, Rapunzel, Elena, Ariel, Belle, Jasmin, Snow White, and Aurora. Harrison even got picked to play Chip in Enchanted Tales with Belle! It was a definite highlight of our trip. (And yes, he has his matching princess dolls with him. We now have the complete set and they all hang out in Elsa's ice castle.)
Our visit to Cinderella's Royal Table
At the end of a long day of rides and royal interaction we headed to Cinderella's Royal Table for dinner. In the lobby we were presented to our hostess herself, Cinderella. Kind of a fun thing happened while we were there, the cast member attending Cindy recognized my son as she had been with Ariel earlier in the day! She even remembered his name – the kid leaves an impression as he's usually singing.
Anyway, while we were waiting in line we were admiring the architecture and we found this delightful pair! You remember Jaq and Gus Gus, right? Cindy made them cute little mouse clothes and they, in turn, stole pearls and made her a dress. In hindsight, not a great idea. I just love the little details that Disney adds around the resort, it really sets them apart from every other theme park.
Jaq and Gus Gus Paper Art Project with Free svg files to make your own!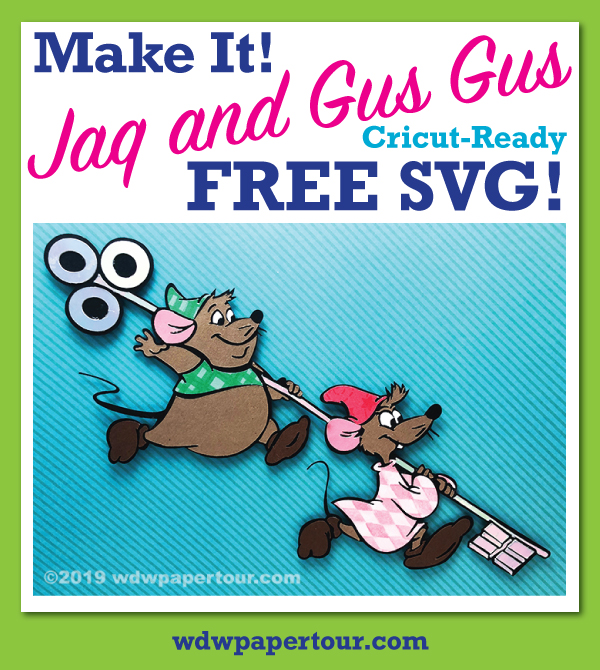 What I love about this design is that it can be used in a few different ways. You can make layered paper art as I have shown or make some silhouette art with the castle from last week. Here's some examples I made up, but really, your imagination is the limit. I'd love to see what you make!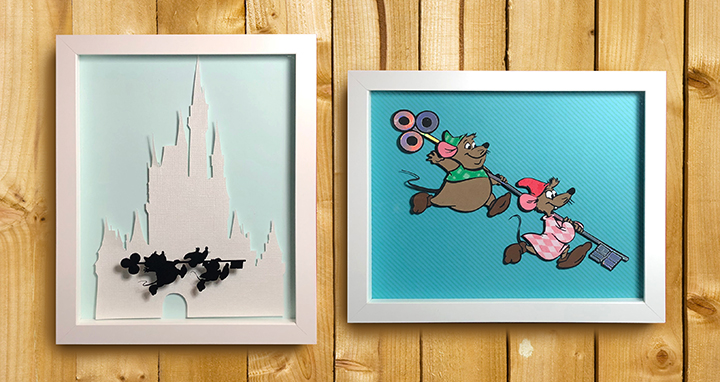 For the paper art piece I used card stock and paper that I had on hand. To add a little interest I used patterned paper for their shirts and hats. This is meant as a nod to artist Jim Shore, who I love.
How to get the Jaq and Gus Gus Free SVG files
The cut files required to create this project are free and available in my Media Library – all you need is the password! If you don't yet have a password you can get it immediately by joining my mailing list now.
When you sign up, the "Thank You" message will tell you the password. You will also receive an email with the link and password. All you have to do is go to the library, click the link that says >>Click Here to Enter Library<< and enter the password when prompted.
In the library you will see a list of available projects organized by location. Click on the name of the project you would like to download and you will be taken to dropbox where you can choose to download the files directly or save to your own dropbox.
The Jaq and Gus Gus Free SVG Package includes
PDF that you can use for print & cut, sublimation, etc.
All layers separated
Layering "cheat sheet"
Terms & FAQ
Recommended Supplies
BY DOWNLOADING MY DESIGNS YOU AGREE TO THESE TERMS:
You can not sell or distribute this design or any part of it. So please just don't do this. I put a lot of work into these designs and then give them away just for joining my mailing list. That's only one email a week updating you on more projects you might like to do! If you know someone who you think will like this design please send them to the blog so they can sign up too.
If you like my designs please consider a small one time donation via Kofi or a recurring donation to my Patreon. This helps me keep the site running, pay for materials, and continue to provide new designs to you!
For commercial use, please email michelle@wdwpapertour.com for licensing information.
I reserve the right to change these terms at any time without notice.
Note: This post contains affiliate links. If you purchase something from one of my links I will get a small commission but it costs you nothing extra.