With our visit to Twilight Zone Tower of Terror we have finally made a quick trip to all four major parks. This also completes my Park Icon Series!
Location: Disney's Hollywood Studios
Opening Date: July 22, 1994
Twilight Zone Tower of Terror Features:
Twilight Zone Tower of Terror Drop Tower Ride
Tower of Terror Gift Shop
Coffee Cart
Washrooms
With the removal of Earful Tower and the extended temporary blockage of The Chinese Theater, Tower of Terror became the main park icon of Disney's Hollywood Studios.
Immersive Queue
Everyone hates waiting, but Tower of Terror features one of the best queues in Disney World. You enter the line through the dilapidated garden area which takes you out of the park atmosphere in strait into the Twilight Zone. From the canned music to the dust and cobwebs in the lobby you feel like you've stepped back in time and really are checking into "an abandoned hotel on the dark side of Hollywood."
Pre-Show
The pre-show brings you into one of the Hotel's two libraries. Here you learn the backstory of the hotel and are invited to check-in and board a maintenance service elevator which will bring you to your room. Make sure to have a look around the room, there are so many fun details and throw-backs to the tv show.
Twilight Zone Tower of Terror Ride
While riding you elevator you will encounter some of the hotel's previous inhabitants and travel further into the Twilight Zone. Needless to say, you won't be spending the night. Again, check out the cool details in the basement at the end of the ride.
Picture … If You Will
Make sure to check out your on-ride photo on the way out and scan your magic band to add it to your Memory Maker account.
Exit Through The Gift Shop
If you are a fan of spooky things, this is the gift shop for you! Along with Twilight Zone and Tower of Terror merchandise you will often find goods from Nightmare Before Christmas and other macabre Disney properties. You can even get yourself a Hollywood Tower Hotel branded robe!
Holiday Happenings
Around Christmas the Twilight Zone Tower of Terror is the canvas for the Sunset Season's Greetings projection show – complete with SNOW!
Fun Facts
Heading back to Epcot, from certain vantage points around World Showcase, the Hollywood Tower Hotel is visible behind the Moroccan pavilion. This is why the Tower has it's unique "pink" color palate which allows it to blend in with the Moroccan architecture.
There is a made for tv movie based on the attraction starring Kirsten Dunst and Steve Guttenberg.
Traditions
As I mentioned in a previous post, my favorite episode of The Twilight Zone is Nick of Time which features the Mystic Seer Box. One of these red, devil topped boxes can be found in each of the pre-show libraries. Look among the cobwebs and curios on the top shelf to find it.
Tips
The Twilight Zone Tower of Terror is a Tier 1 Fastpass+ attraction at Hollywood Studios. While it's not a bad use of your Fastpass selection. It is much lower priority than rides such as Slinky Dog Dash, Toy Story Mania, and Rock 'n' Roller Coaster.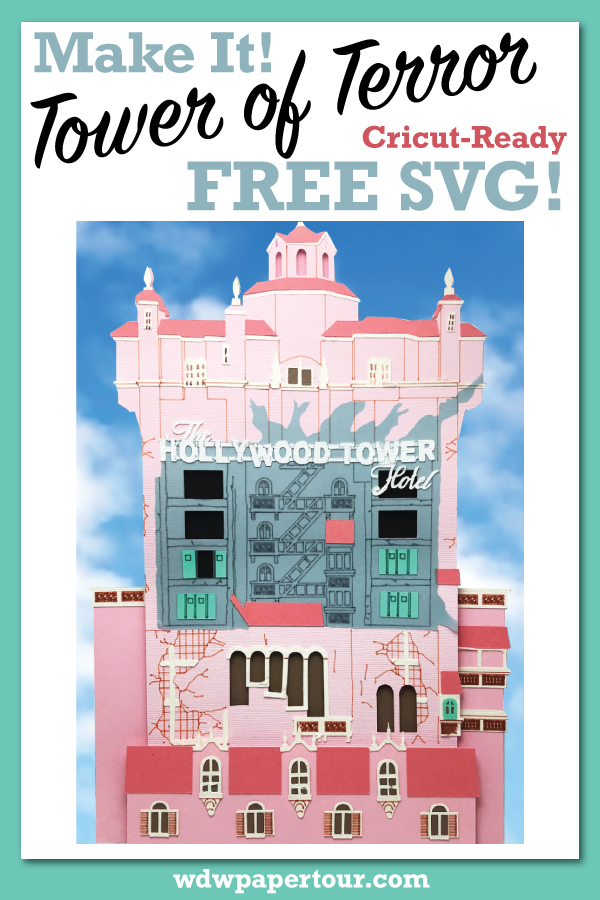 Twilight Zone Tower of Terror Paper Art Project with Free SVG Files
This one took me a while because I keep second guessing myself. The biggest issue was deciding how I wanted to do the lightning damage. I ended up using blue colored velum.
I also had issues finding the right color paper. My son was not pleased with the amount of time I spent starring at colored paper at Michael's. In the end I had to work with what I had available, so I'm not 100% happy with the colors. Maybe you will have better luck than me. I do love how it comes together though!
Twilight Zone Tower of Terror Supplies
How to get the Twilight Zone Tower of Terror SVG Files
The cut files required to create this project are free and available in my Media Library and all you need is the password. If you don't have a password yet you can get immediate access by joining our Facebook Group Here.
The Twilight Zone Tower of Terror Package Includes
All layers separated
PDF instructions
Terms & FAQ
Note: This post contains affiliate links. If you purchase something from on of my links I will get a small commission but it costs you nothing extra.