Today I would like to share with you an outfit I put together inspired by the Tower of Terror at Disney's Hollywood Studios. I'm also inviting you to "steal my look" and download the Hollywood Tower Hotel Logo Free SVG to make your own accessories!
Tower of Terror
Currently, The Twilight Zone: Tower of Terror is my favorite attraction at Disney's Hollywood Studios. That could change as soon as January when I finally get to experience Galaxy's Edge.
My favorite episode of The Twilight Zone is "Nick of Time" featuring the infamous Mystic Seer. Did you know that both of the pre-show library rooms contain a Mystic Seer box? Just look above the bookcases and you will see the creepy red devil head among the artifacts and cobwebs.
The Tip Top Club at the Hollywood Tower Hotel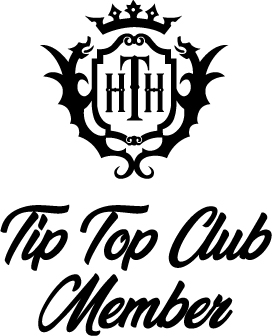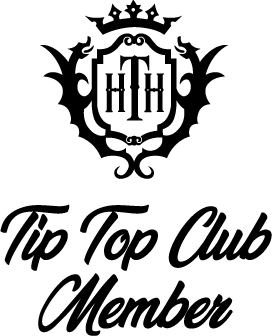 On Halloween night, 1939, Anthony Freemont and His Orchestra played their final performance at the Tip Top Club. I've always been fascinated with this fictional club. The only mention of it is on a poster in the abandoned lobby.
The club is featured in the tv movie based on the ride, Tower of Terror. The film stars Kirsten Dunst and Steve Guttenberg. In it you learn more about the 5 occupants of the doomed elevator and The Tip Top Club.
I added the "Tip Top Club Member" copy as a fun little in-joke. That said, you can just used the Hollywood Tower Hotel logo on whatever project you are making.
Disney Inspired Fashion
For me, part of the fun of going to the Disney parks is dressing the part. I love to see people in their cute character t-shirts or straight up Disney Bounding their favorite animated heroes. Last year I really got into planning my outfits by choosing themed Minnie ears and creating outfits around them. This year I am doing the same, but now I have a Cricut to create some fun, unique elements.
For my outfit I wanted something comfortable and park-friendly. I have seen so many cute Disney outfits that I love, but I would not like to spend an entire day walking around in! As I mentioned, Nick of Time is my favorite Twilight Zone episode so I was super excited when I found the Mystic Seer shirt on Amazon. I paired the tee with a tank top – layering in the Florida sun sounds counter intuitive but makes me much more comfortable.
The lighting leggings are a nod to that fateful Halloween night in 1939 when the tower was struck by lightening and the 5 travelers became permanent residents of the Twilight Zone. The eyeball necklace and spiral earrings are inspired by the opening credits of the show and also make an appearance in the ride. Add some comfy shoes and the outfit is complete!
Finally, I thought a custom drawstring bag would be fun! These are so compact that you could make one for everyday of your trip while using minimal space in your luggage. As an added bonus you could even use them to pack your outfit in for each day, saving you time in the mornings.
Steal My Look
How to get the FREE Hollywood Tower Hotel Logo SVG File
The cut files required to create this project are free and available in my Media Library and all you need is the password. If you don't have a password yet you can get immediate access by joining our Facebook Group Here.
Note: This post contains affiliate links. If you purchase something from on of my links I will get a small commission but it costs you nothing extra.