The next stop on our tour around Walt Disney World is Spaceship Earth! Learn a bit about this classic Epcot attraction and find out how you can download my Spaceship Earth Free SVG files!
Location: Epcot, Future World
Classification: Weenie
Opening Date: October 1, 1982
Features:
Often referred to as the "giant golf ball", Spaceship Earth is a geodesic polyhedron comprised of 11,324 individual tiles. It was designed by Wallace Floyd Design Group with help of science fiction writer Ray Bradbury.
Spaceship Earth Ride
Board your time machine for a journey through the history of human communications. When you ascend the first hill your photos will be taken and used as part of the finally scene. As you continue through the ride, you will encounter scenes featuring audio animatronic figures depicting human interaction throughout history.
Project Tomorrow
Spaceship Earth is one of those rare rides that doesn't exit through the gift shop! After disembarking your time machine vehicle you will find yourself in Project Tomorrow. The first thing you will probable notice is a large globe that displays the photos of guests who have ridden that day. Keep an eye out for your picture! There is also a 3D game called Body Builder, a driving simulator called Super Driver, a digital surfing game called Power City, and Inner Vision a reaction-time game.
Fun Facts
The ride has gone through many changes over the years adding scenes and changing the finale. The original narrator was actor Vic Perrin. In 1986, Perrin was replaced with Walter Cronkite and the "Tomorrow's Child" theme song was added to the finale. After another update, the voice of Spaceship Earth was also the voice of Scar in the Lion King, Jeremy Irons. If you visit the attraction now your journey through time will be Dame Judi Dench.
Traditions
Look for the little paper boy. He used to face your car yelling "Extra extra read all about it!" in a super annoying voice every few seconds. Due to this on the last update they took away his voice and banished the poor kid to face a wall.
Tips
Though it's the first structure you will encounter when entering the park it very rarely has a long line, so it's best to pass it up first thing and save it for later in the day. The ride is long and air conditioned so it is a great respite from the mid-day Florida heat.
What's a Weenie?
"Weenie" is an imagineering term used to describe the main visual draw of a park. Each Disney park has one, at Magic Kingdom it's Cinderella's Castle, Animal Kingdom has the Tree of Life and Disney Hollywood Studios considers the Hollywood Tower Hotel it's icon now that the water tower is gone.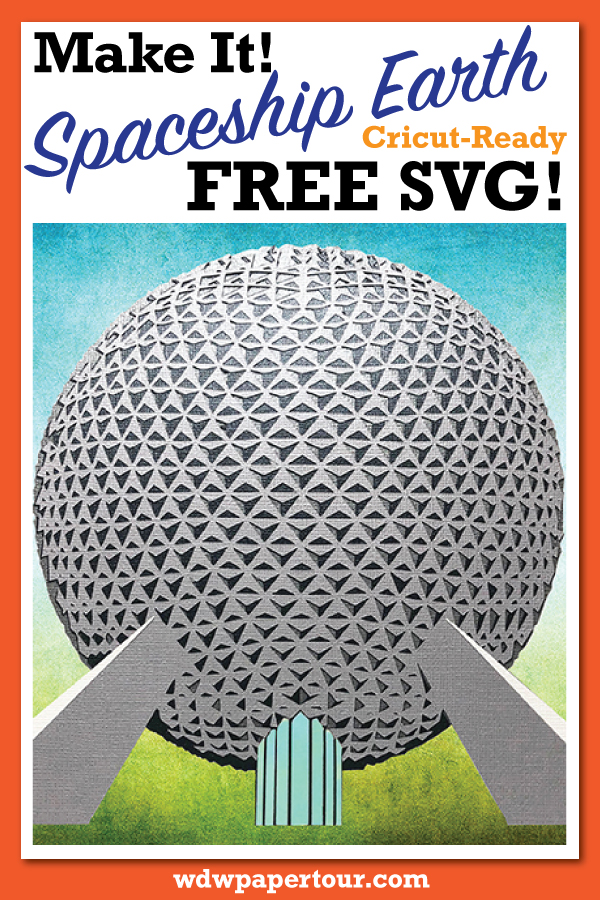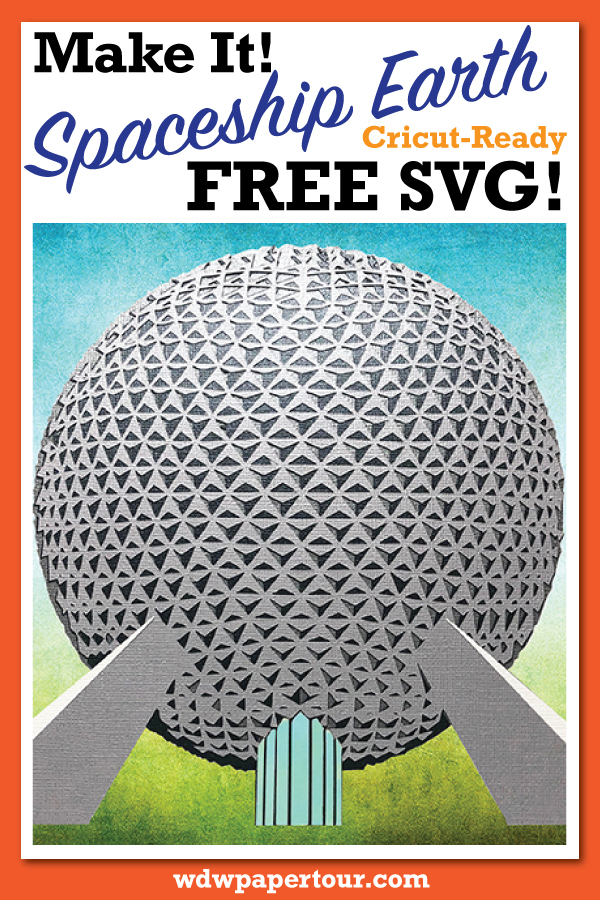 Spaceship Earth Paper Art Project with FREE SVG Files to make your own!
When creating this project I thought the hardest part was going to be drawing the thing (believe me when I say that was no picnic), but the biggest challenge was to figure out a way to make a design that looked like it was made of thousands of triangles without making you cut and reassemble thousands of triangles.
You can make one too!
I went through A LOT of gray paper trying to get the thing to work right, not to mention the fact that my Circut wasn't always in a cooperative mood. If you do this project, I highly suggest you use a clean, sticky mat and a fresh blade. High quality card stock seems to be a key element as well as the cheaper stuff I used to test the cuts would often drag and rip.
Even though this was more complex to design, it is actually much easier to assemble than the castle design as there are mostly just a few large pieces instead of a bunch of small turrets to glue.
How to get the Spaceship Earth Free SVG Files
The cut files required to create this project are free and available in my Media Library – all you need is the password! If you don't yet have a password you can get it immediately by joining my Facebook Group Here.
In the library you will see a list of available projects organized by location. Click on the name of the project you would like to download and you will be taken to Dropbox where you can choose to download the files directly or save to your own Dropbox.
The Spaceship Earth Paper Art FREE SVG Package Includes
PDF that you can use for print & cut, sublimation, etc.
All layers separated
Assembly guide with materials recommendations
Terms & FAQ
Recommended Supplies
By Downloading my designs you agree to the following:
You can not sell or distribute this design or any part of it. So please just don't do this, because I put a lot of work into these designs and then give them away just for joining my mailing list. That's only one email a week updating you on more projects you might like to do! If you know someone who you think will like this design please send them to the blog so they can sign up too.
If you like my designs please consider a small one time donation via Kofi or a recurring donation to my Patreon. This helps me keep the site running, pay for my materials, and continue to provide new designs for you!
For commercial use, please email michelle@wdwpapertour.com for licensing information.
I reserve the right to change these terms at any time without notice.
Note: This post contains affiliate links. As a result, if you purchase something from on of my links I will get a small commission but it costs you nothing extra.