Our very first stop on our Paper Tour around Walt Disney World is Cinderella Castle! I've included a little information about the attraction itself as well as instructions on how you get your Cinderella Castle FREE SVG files!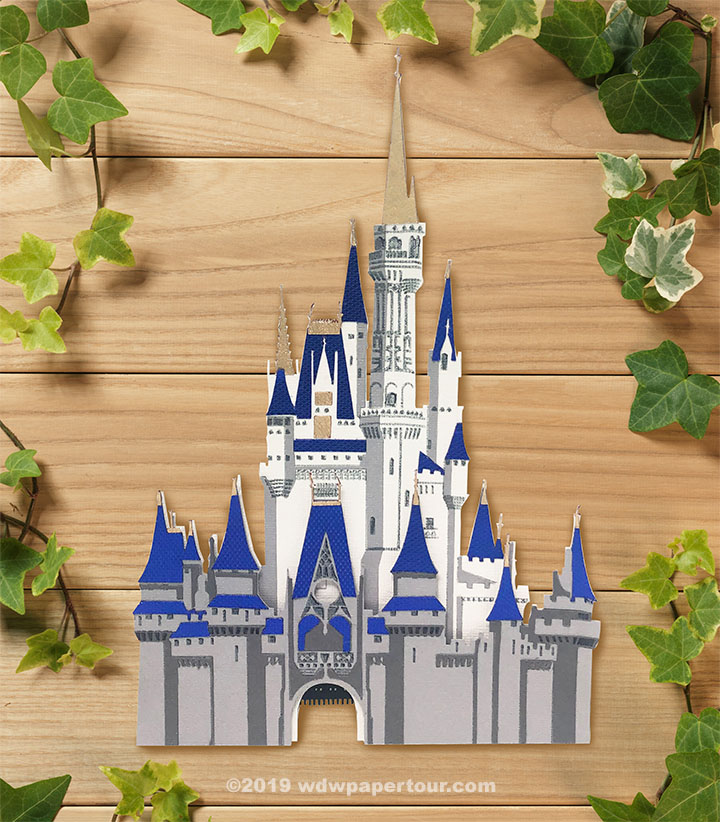 Classification: Weenie
Opening Date: October 1, 1971 (Opening Day Attraction)
Features:
Full Service Restaurant – Cinderella's Royal Table (Character Dining)
Cinderella Mosaic Murals
Castle Dream Suite (Not Open to the Public)
Castle Forecourt Stage
Cinderella Castle is, without a doubt, the most famous landmark in all of Walt Disney World. When most people think of the Disney Parks they picture the castle first and foremost. At 189 feet tall, the castle can be seen from all 7 lands that make up the Magic Kingdom.
Outside the Castle
If you arrive at the Magic Kingdom at opening you can watch the delightful opening ceremony at the Castle Forecourt Stage. The show features many of your favorite Disney pals welcoming you to the Magic Kingdom. Throughout the day this is also the location of the "Mickey's Royal Friendship Faire" show. Check the daily entertainment schedule, times guide, or My Disney Experience app for show times.
Inside the Castle
When entering the castle the first thing you will encounter is the breathtaking Cinderella Mosaic Mural. The mural was designed by imagineer Dorothea Redmond. Take the time to stop and view the ornate patterns. It really is amazing how each small tile fits together to create this beautiful work of art.
More to Explore
Most guests will only pass through the castle but you can also spend some time inside two unique locations within the building. Both are very popular, require reservations well in advance, and involve and additional charge to experience.
If you have a little princess or princess who would like the ultimate royal makeover you should visit Bibbidi Bobbidi Boutique. Fairy godmothers are on hand to faun over your young nobility giving them a new look through makeup and hair. Matching costumes are available as well.
For a regal experience geared to the entire family, make a reservation to dine at Cinderella's Royal Table. Your visit begins with your family being presented to Cinderella herself before being escorted upstairs to the royal banquet hall. While dining on delicious foods and taking in the amazing views of Fantasyland your table will be visited by an array of princesses. Keep your cameras and autograph books handy.
Fun Fact
There were no bricks used in the construction of Cinderella Castle so if someone asks you how many bricks there are you can tell them "zero."
Traditions
It's a tradition in my family, and not unique to us, to walk through the castle and touch Cinderella's slipper on the mosaic mural.
Tips
During the castle forecourt shows that take place throughout the day the hub entrance to Cinderella Castle is inaccessible. When the nightly fireworks are being shown the entire area immediately around and behind the castle is roped off for safety. If you are in BBB or Cindy's Royal Table at this time, cast members will be on hand to help you safely navigate the area.
What's a Weenie?
"Weenie" is an imagineering term used to describe the main visual draw of a park. Each Disney park has one, at Epcot it's Spaceship Earth, Animal Kingdom has the Tree of Life and Disney Hollywood Studios considers the Hollywood Tower Hotel it's icon (they are wrong, it's the Chinese Theater, but that's a blog post for another day.)
Cinderella Castle Paper Art Project with FREE SVG Files to Make Your Own!
When I started making paper crafts just a few months ago one of the first things I made was a creepy tree luminary for my Halloween blog. My 4 year old son loved it and asked (more like told) me to make him Cinderella's castle out of paper. He loves castles and princesses and even got to eat at Cinderella's Royal Table for the first time on our last trip.
Originally I was going to create a simplified version of the castle and make another luminary but I just wasn't quite happy with how it looked and decided to go in another direction. Then I thought, "hey I could do more than just the castle!" and that's how wdwpapertour.com was born.
An Interactive Art Project
Please keep in mind that this blog is basically an art project that I'm welcoming people to create with me. Paper crafting is a new medium for me and the Cricut is a new tool, this is only the fourth project I've done with it and only the third that I've designed myself. If you need help with your Cricut there are many awesome blogs and facebook groups that can help you, I probably can't. If you have a problem with the files, however, I'm your girl! Email me at michelle@wdwpapertour.com.
Honestly I should have picked a less complex location to start with! Going into designing the castle I thought that the actual design part was going to be the hardest and most time-consuming. Boy was I wrong! You see, I've been doing digital design work for almost 20 years now so that part was easy, though it did take a lot of time. I found my biggest challenge in converting the design to a work-able Cricut project. Because of that there was a lot of trial and error and trips to Michaels to get more paper.
How to get the Cinderella Castle FREE SVG files
The cut files required to create this castle are free and available in my Media Library and all you need is the password. If you don't have a password yet you can get immediate access by joining our Facebook Group Here!
The Cinderella Castle FREE SVG Package Includes
Pdf that you can use for print & cut, sublimation, etc.
All layers separated with layering "cheat sheet"
Combined layers for paper craft as shown with instructions
Terms & FAQ
Recommended Supplies
By Downloading my designs you agree to these terms:
You can not sell or distribute this design or any part of it. So please just don't do this. I put a lot of work into these designs and then give them away just for joining my mailing list. That's only one email a week updating you on more projects you might like to do! If you know someone who you think will like this design please send them to the blog so they can sign up too.
If you like my designs please consider a small one time donation via Kofi or a recurring donation to my Patreon. This helps me keep the site running, pay for materials, and continue to provide new designs to you!
For commercial use, please email michelle@wdwpapertour.com for licensing information.
I reserve the right to change these terms at any time without notice.
Note: This post contains affiliate links. If you purchase something from one of my links I will get a small commission but it costs you nothing extra.